Introduction
Introduction
The market for aesthetic medical services is immense and growing by double digits. Public interest and demand for these services are at an all-time high. In 2008, over 75 million aesthetics procedures were performed in the United States alone and expected to double in the coming years. Over half of these services were performed with non-surgical, non-invasive light therapy or laser systems.

Permanent Hair Reduction
Each year, the public to remove unwanted or excessive hair spends more than $10 billion. Until the introduction of light based methods, the preferred ways to remove hair have been shaving, waxing and electrolysis. Intense pulsed light allows you to capitalize on this growing and profitable market by providing a cost effective permanent solution while outperforming most other competitive systems.

Skin Rejuvenation

The signs of photo-aging and sun damage affect both men and women and start to appear on the skin from age thirty onward. Most skin changes are commonly associated with aging resulting from sun exposure. These include changes in skin pigmentation such as freckles, melasma, uneven skin tone, rough skin texture, fine lines, wrinkles and spider veins.
The signs of sun damage can be treated and reduced with a series of Intense Pulsed Light (IPL) treatment. IPL is very effective in reducing the visible signs of sun damage by stimulating skin renewal, growth of new collagen and elastin fibers in the deeper layers of the skin. This contributes to slowing down the future process of aging.
IPL uses the principle of neocollagenesis. Neocollagenesis is a process in which new collagen fibers are created under the skin thus replacing the damaged ones and filling the spaces where the fibers were destroyed, mainly due to environmental factors.
IPL treatments enable this process, letting the skin heal by itself while reducing the wrinkles. At the same time, pigmented and vascular lesions are reduced by using a low-energy and broadband light thus the skin imperfections is replaced by newer and younger looking skin. Multiple treatments are required in order to achieve optimum results.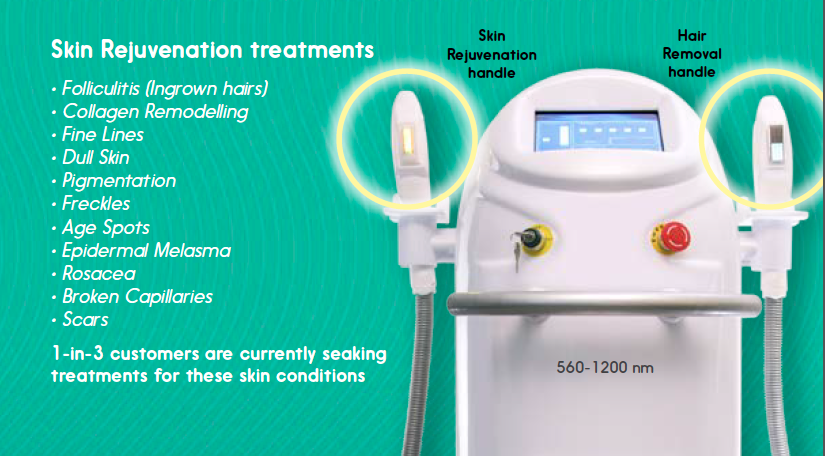 In the following chapter you will learn in depth about the skin, the epidermis, the dermis, the hypodermis, the causes of skin damage and aging and skin disorders. As well, this course will go in depth regarding the hair follicle anatomy, structure, types of hair, growth cycles and hair removal methods - before progressing to the next chapter.